It's about time I got in another West Coast show. It's curated by my boy Christopher Burch and flaunts range of art, music and design. Plus it's out of the oh so heavy OnSix. If only I had the dough (and time) to fly out there and kick it with my show mates and these notorious street scum I hear about...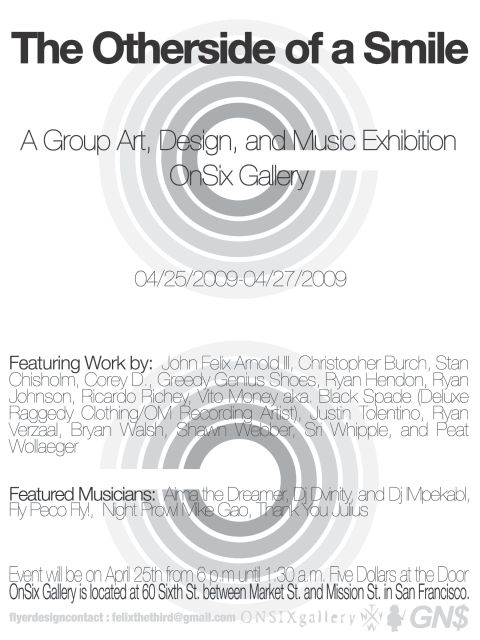 The other side of a smile
The Other Side of a Smile is a multi media group show that celebrates the many facets of irony. The reasons why people would rather send in the clowns or just burn the big top down as opposed to sitting in quiet despair. The other side is the intersection where a sinking feeling meets survival, where laughter and laceration take turns on the swing set. It is where the phrase "its funny because of the strangeness" comes to light. The Other Side of a Smile will be held on April 25th at OnSix Gallery, located on Sixth Street between Market and Mission. The event will begin at 6 p.m and ends at 1:30am. 
Stan Chisholm (18andCounting)


John Felix Arnorld III


Christopher Burch


Ricardo Richey


Justin Tolentino


Ryan Verzaal


Ryan Hendon


Shawn Webber


Bryan Walsh


Pete Wollaeger


Sri Whipple


Corey D.


Ryan Johnson


Vito Money aka. Black Spade –Delux Raggedy clothing line (also Ohm recording artist)


Greedy Genius Shoes





Musical Acts


Dj IMpekabl


Dj Divinity